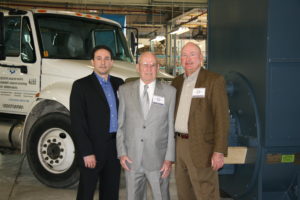 Decatur Industrial Electric, Inc. is a family owned business incorporated in 1952 by Claud Thompson.  After returning from World War II, Mr. Thompson, who had been an electrician on the USS St. Louis, decided to start an electrical contracting and motor repair business.
As the manufacturing industries grew after World War II, so did Decatur Industrial Electric.  In 1975, Claud's son Philip Thompson became president of Decatur Industrial Electric, Inc.  The company became the leader in electrical motor repair and supply in central Illinois.In 1980, Decatur Industrial began the expansion of their services by opening a motor shop branch in Mt. Vernon, Illinois, Mt. Vernon Electric.  In 1984, Mt. Vernon Electric expanded even further with the acquisition of an electrical wholesale business, also in Mt. Vernon.In 2000, at the lead of Phil's son, Trent Thompson, Decatur Industrial Electric purchased Arthur Motor Works, an electrical repair shop in Bradley, Illinois.  The business was renamed Kankakee Industrial Technology, also known as KITECH.
Trent Thompson became President of all three companies in 2002.  In 2009, Decatur Industrial Electric moved into its 4th Decatur location on Garfield Avenue.  Today, D.I.E. has 129,000 square feet of service center in Decatur.  With locations in Decatur, Kankakee, and Mt. Vernon, Illinois, Decatur Industrial Electric is large enough to handle your most important equipment, yet small enough to take care of our customers with personal, professional service, no matter the size of their needs.
Decatur Industrial Electric, Inc. has over 65 years of satisfying our customers, and we will continue to work hard to meet and exceed your expectations for years to come.