DECATUR – Decatur Industrial Electric is pleased to announce the promotion of Landon Baine.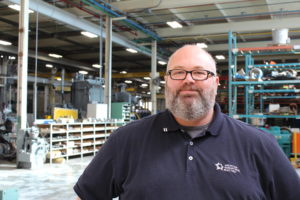 For the past 14 years, Landon has served as the company's service specialist and IT coordinator.
"Landon earned this position as his technical ability, coupled with his dedication of service excellence for our customers, is second to none. His individual accomplishments and teamwork made him a perfect fit," said Trent Thompson, president of Decatur Industrial Electric. "He is always striving to learn something new and driving continuous improvement."
In his new role, Landon will be responsible for the performance of the inside sales customer service and logistics' team members.
Greg Ferris previously served in this position and will be retiring from Decatur Industrial Electric in 2018 after more than two decades of service.
Decatur Industrial Electric is a strategic partner in reliability solutions to customers throughout the Midwest and has been providing electrical and mechanical equipment solutions for over 65 years.